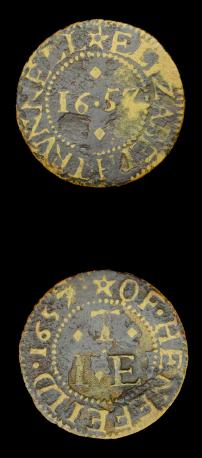 The farthing token issued by Elizabeth Trunnell of Henfield in 1657.
This page has been established to facilitate sharing of information with other Trunnell researchers. The work prented here was part of my research into Elizabeth Trunnell of Henfield who issued a merchant token there in 1657. An article on her will be available under Publications in due course.
The surname Trunnell, Tronnell, Trendyll, Tryndall are all variants the old English name of Trundle, meaning of circle or sphere. An illustration of this is seen in a church court deposition dated 1 October 1585 which records the name Richard Trundel alias Trunnell (WSRO: Ep/I/11/5). The Oxford Dictionary of Family Names in Britain and Ireland suggests that the surname could be for someone who lived near a circular feature, or who came from a place so named, possibly meaning "a man from the Trundle" and noted that there was a hillfort known as The Trundle in Singleton, West Sussex. A Ricardus Trandelman in recorded in the 1397 Poll Tax for Sussex at Aldingbourne where the Trunnells are later to be found. The Lay Subsidy Rolls for Sussex 1524-25 records three Tronells and three Trendyll/Tryndalls at East Harting, Stoke, Arundel, Streat and Hurstpierpoint – all places in the broader area around Aldingbourne.
Unfortunately, the surname disappears from Sussex. There are no further Trunnell entries in the Sussex Marriage Index after 1675 and none for Trundle/Trendle after 1739. The 1880 census of England, Scotland & Wales records just eight people with the Trunnell surname, with a cluster of five at Kingston-upon-Thames.
The Trunnell family remains of interest today because of their historical ownership of Nyton Farm at Aldingbourne 1561-c1675 (still a farm today) and because of collectors' interest in the merchant token issued by Elizabeth Trunnell of Henfield in 1657.
Please contact me if you disagree with any of the connections and/or have further information. I am happy to make corrections based on evidence which you can provide.
The family tree below is a descendants chart of John Trunnell, the purchaser of Nytons Farm in 1561, and shows the last of the Trunnells in Sussex.