The following baptisms, marriages and burials for WAITE and variants (Wait, Wayt, Waight, etc) have been taken from an indexed transcript of Leigh baptisms, marriages and burials 1592-1812 (Centre for Kentish Studies, Maidstone TR 2322/41). Be advised that there are gaps as some records have been lost. The earliest original register (baptisms, marriages and burials) only survives from 1592/3 to 1597, although in there are some baptisms 1562-1598 extracted from a manuscript made in 1726, in the library of the Society of Antiquaries, London.
To summarise, the registers cover the following periods:
Gilllian Rickard makes the following comments:
Seeing that there is a manuscript of baptisms 1562-1592 and that the original registers now start in 1592 but only go up to 1598 before there is a gap until 1638, suggests to me that just fragments of the first register now survive - baptisms 1562-1598 and marriages and burials 1592-1598. The second register probably started in 1638 and the rest of the first register has been lost, the pages recording events 1592-1598 having been bound into the second register to keep them together. Gillian Rickard 26 Oct 2011
There are notes in register 3 on two leaves after the burials, some much stained by water. They are an account of people and properties liable for churchyard repairs, inserted in register 10 July 1750:
- Landlord Mr. Richd Children, tenant William Waite for Barnett Land late Wm Halls.
- Landlord John Sale, tenant Wm Waite for Quinotts 5 (no indication what this number by some of the entries means - perhaps acres? or 5s, £5?]
- Landlord Mr. Dixon, tenant Thomas Waite for a farm near Leigh Green 13.
NOTE REGARDING DATES: 
Prior to 1752, the New Year started on 25th March so that in the parish registers, the year 1716 for example, did not change to 1717 until the 25th March. This causes a lot of confusion and dates occurring between 1st January and 24th March are often written as 1716/17 (for example). The Gregorian 'New Style' Calendar was adopted in England in 1752 (in Scotland in 1600 and on the Continent in 1582) and that year started on 1 January. In 1751 the year started on 25 March (as was usual) and there was 25 March 1751-31 December 1751, with 11 days in September omitted to bring the previous Julian calendar into step (it had gradually been losing time).
Genealogists consider that It is best to express dates and years as they appear in the original records so that anyone wanting to go over one's research can find an event on the correct date as expressed in the parish register or other document. The dates on the baptisms, marriages and burials above adhere to this rule, so that 24 Feb 1716 (as it would appear in the register at that time) is in fact 24 Feb 1716/17. 
The information about the WAITEs of Leigh, Kent was compiled with the assistance of Gillian Rickard, B.A., Dip.Loc.Hist, specialist in Kent Genealogical, Historical and Biographical Research (www.kentgen.com)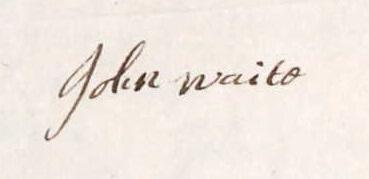 John Waite's signature from his marriage allegation, 23 April 1713.